Chesapeake & Ohio Canal (West) Scenic Byway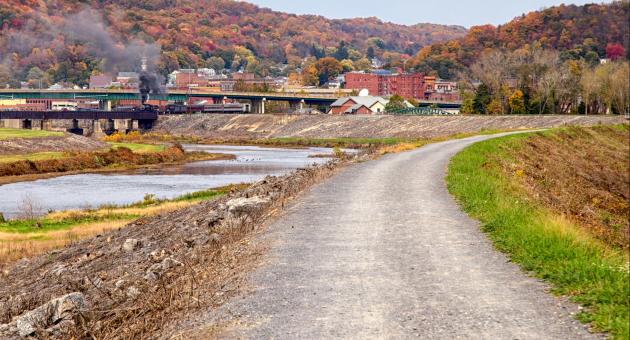 Difficulty

Easy
13 Canal Street, Cumberland, MD 21502
Best Time of Year: Jul 07 - Jul 07
Follow rich history and adventure through Allegany County's portion of the historic C&O Canal, a 184.5-mile towpath that was used to transport natural resources from Cumberland, MD, to Georgetown between 1831 and 1924.
About the Byway
Allegany County's Chesapeake & Ohio Canal - West Scenic Byway is part of Maryland's larger 236-mile Chesapeake and Ohio Canal Scenic Byway - one of 15 scenic byway systems in the state - which runs from Cumberland, MD, to Washington, DC, along the C&O Canal National Historical Park. Nicknamed the "Grand Old Ditch," the C&O Canal served for nearly a century as a transport system carrying coal and natural resources from the mountains of Maryland to the eastern seaboard, using mules and cargo boats to travel the canal and towpath. Today, the canal serves as a popular recreation site and is Maryland's most-visited national park.
Explore the Byway by Bike, Boat, and Car
The Chesapeake and Ohio Canal - West Scenic Byway extends from Cumberland, MD, to Hagerstown, MD, following the scenic routes of MD 51, MD 144, I-70, US 40, MD 56, MD 68, MD 63, and MD 65. Adventure your way off the byway to bike the C&O Canal Towpath, hike or mountain bike through Green Ridge State Forest, or explore the Paw Paw Tunnel, an engineering marvel along the canal, which took 14 years to build as workers cut through more than 3,000 feet of the mountain to bypass the Paw Paw Bends in the Potomac River.
Points of Interest Along the Byway
1812 Brewery
13006 Mason Road NE, Cumberland, MD
C&O Canal National Historical Park and Towpath
13 Canal Street, Cumberland, MD
Spring Gap Boat Access
Oldtown Road Southeast, Oldtown, MD
Allegany Museum
3 Pershing Street, Cumberland, MD
Green Ridge State Forest
28700 Headquarters Drive NE, Little Orleans, MD
C&O Canal National Historical Park Museum and Visitor Center
13 Canal Street, Cumberland, MD
Great Allegheny Passage
13 Canal Street, Cumberland, MD
Paw Paw Tunnel
Tunnel Hill Road, Oldtown, MD