George Washington Trail
Follow along the George Washington Trail 1753 through Allegany County, the Mountain Side of Maryland, commemorating young Washington's first diplomatic mission to western Pennsylvania - a mission that led to the outbreak of the French and Indian War.
About The George Washington Trail 1753
Throughout Allegany County, going west from Oldtown, Maryland, to the crest of Savage Mountain, George Washington's familiar profile is depicted on blue signs along our scenic byways and city streets. Serving as a marker for George Washington's first diplomatic venture to what is now western Pennsylvania through Allegany County in 1753, the signs encourage visitors to travel along the route to discover George Washington's first diplomatic mission to demand French troops leave land (now western Pennsylvania) claimed by England. Follow Washington's profile though Allegany County to discover the footsteps of the Father of our Country and learn more about his military career that began and ended in our mountains.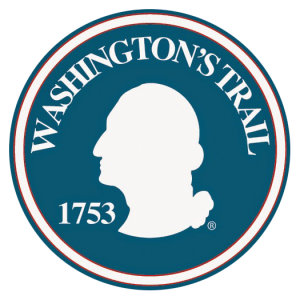 Washington's 1753 Misson
In 1753, the imperial nations of France and Great Britain and the Native American nations all claimed control of the Ohio Country, the area encompassing present day western Pennsylvania and eastern Ohio. Acting on orders from Virginia Governor Robert Dinwiddie, 21-year-old Major George Washington embarked upon a dangerous expedition north from Williamsburg to deliver a diplomatic message to the French ordering them to evacuate the region. The French erected three forts to reinforce their claim to the area: Fort Presque Isle (Erie, PA), Fort sur la Riviére aux Boeufs (Waterford, PA) and Fort Machault (Franklin, PA). During his journey to the French forts in the winter of 1753-1754, young Washington encountered many hazards. There were "excessive rains and vast quantity of snow". He was nearly shot by a Native American guide near Harmony, PA, and he nearly drowned in the icy waters of the Allegheny River near present day Pittsburgh, PA. When Washington returned to Williamsburg in January of 1754, he reported to the governor that the French intended to remain entrenched in the Ohio Country. This marked the beginning of the military struggle known as the French and Indian War. 
Along the George Washington Trail 1753
Relive Washington's first diplomatic expedition—retrace the steps of our first president, take advantage of the historic and natural attractions along the way. Round, blue trailblazer signs with Washington's famous profile are located along Washington's route through scenic western Maryland and Pennsylvania. Explore these three locations as you travel Maryland's portion of the George Washington Trail 1753  to gain a historical perspective on Washington's various other visits to Allegany County in 1748, 1753, 1755-58, and one last time as President in 1794. Pick up the trail at the Maryland/PA border and follow it north for the Pennsylvania portion of the Washington Trail 1753.  
Points of Interest Along the Trail

The Michael Cresap House - Oldtown, MD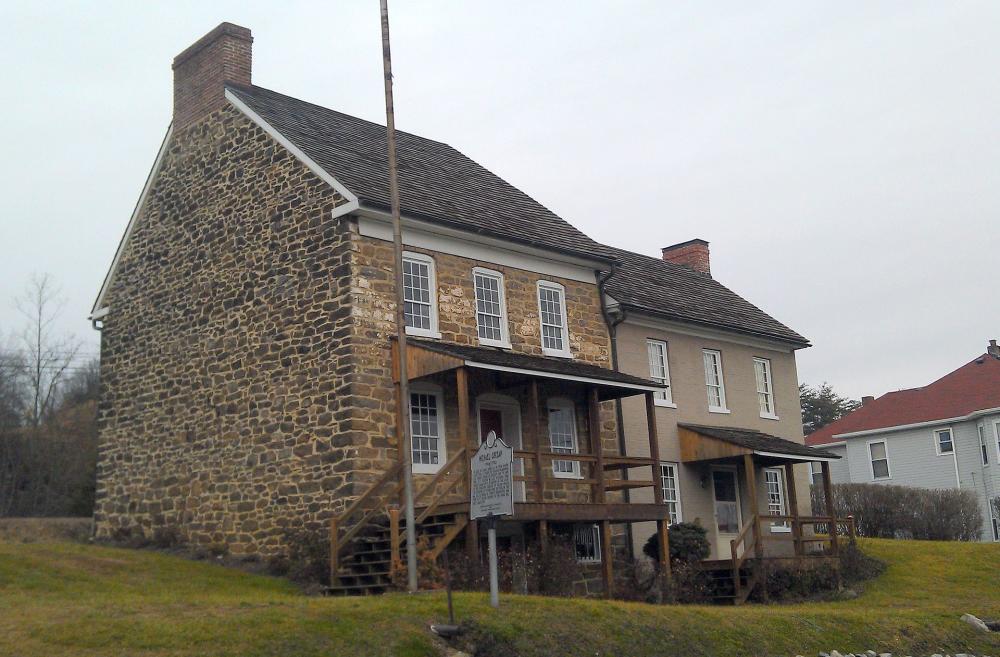 On this spot in 1748, Washington arrived as a teenage surveyor and enjoyed the hospitality of famous colonial frontiersman, Thomas Cresap. Young Washington saw his first Native American around Cresap's campfire. This historic home and Thomas Cresap's grave remain here to help visitors share the wonder of this river crossing.
PROSPECT SQUARE - CUMBERLAND, MD

On this spot in 1755, Washington served as an aide to British General Edward Braddock at Fort Cumberland during the French and Indian War. Later, in 1794, he returned to the same parade grounds to review troops preparing for the Whiskey Rebellion, a protest against the first tax imposed on a domestic product by the newly formed federal government. You can feel the history in your bones touring parts of the original Fort Cumberland in the basement of Emmanuel Episcopal Church on Washington Street and Washington's log headquarters, twice occupied by George Washington in his travels to Allegany County, located at Riverside Park in Cumberland, Maryland.
Braddock's Road At St. John's Rock - Frostburg, MD
Deep in the Savage River State Forest, a once-in-a-lifetime sight awaits experienced hikers. The longest stretch of Nemacolin's Trail on public land winds west toward Fort Duquesne from the rocky precipice where Washington crossed with over 2,000 elite British troops on Braddock's ill-fated 1755 march.
This project was funded in part by Preservation Maryland and the Maryland Historical Trust. The trail links to a greater trail system that travels from our stopping point at the Maryland/Pennsylvania border through Pennsylvania's modern highways to explore Washington's route through Pennsylvania on the same 1753 military expedition to Pittsburgh.
Allegany County, Maryland, boasts three centuries of American history. The heyday of…
A memorable getaway starts with a great place to lay your head at night, and Allegany…