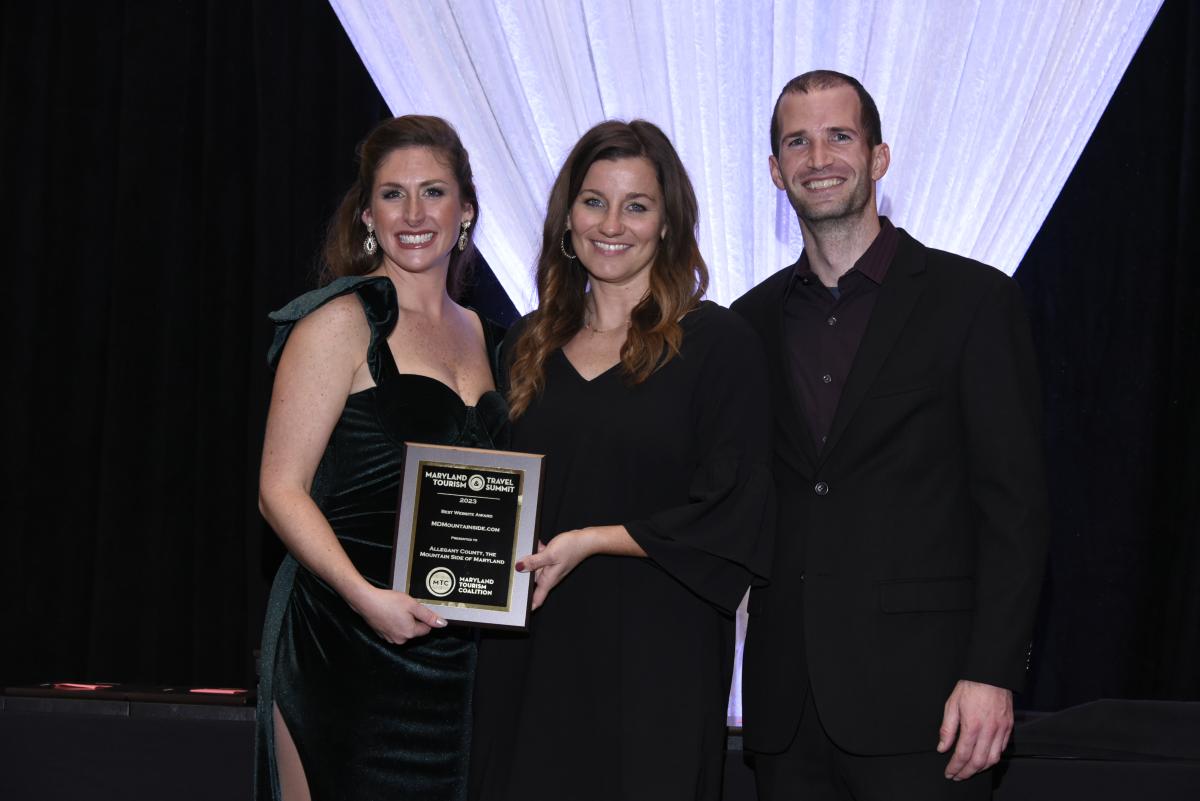 Photo Credit - KRR Photography
FOR IMMEDIATE RELEASE:
Allegany County Office of Tourism
701 Kelly Road
Cumberland, MD  21502
aworkman@alleganygov.org
www.mdmountainside.com
Allegany County Tourism Wins Statewide Award at Maryland Travel and Tourism Summit
Tourism takes home award for 'Best Website.'
November 14, 2023 - CUMBERLAND, MD – Last week, Allegany County Tourism took home the 'Best Website Award' for mdmountainside.com during the 42nd Annual Maryland Travel and Tourism Summit's (MTTS) Awards Banquet in Owings Mills, Maryland.

The Maryland Travel & Tourism Summit (MTTS) is Maryland's annual tourism industry conference that brings together all sectors of the hospitality industry where business and public sector leaders convene, network, and learn new strategies to advance Maryland's Tourism industry. The annual awards banquet is open to all sectors of the tourism industry.

The annual 'Best Website Award' is given to a recipient whose website demonstrates a creative implementation of a brand that is visually pleasing, unique, that captures the spirit of the brand, and is user-friendly.

"Our website provides inspiration, leads all our communication efforts, and drives our performance metrics for our advertising strategies," said Director of Tourism, Ashli Workman. "We are so honored to receive this award at the state level from the Maryland Travel Coalition."
Showcasing the beauty of our mountain destination with visually stunning displays of photography and video, Allegany County, the Mountain Side of Maryland, launched the new website in June of 2023. Content plays a major role in tourism's digital strategy, and the blog marquee on the homepage calls attention to feature blogs. Perhaps the most notable new feature, however, is the trails widget built into the homepage. Here, visitors can click through a variety of food, history, and outdoor themed trail systems. Each trail is built out with such details as points of interest, distance, duration, ascent, and descent where applicable, and complements the destination's new initiative and campaign tagline, "The Trail Starts Here." Designed and hosted through Simpleview's platform, the use of Allegany Tourism's brand color palette throughout the site ties the entire design together.

These professional awards honor organizations/businesses, colleagues, employees and associates whose skill, dedication, and talent bring professionalism to Maryland tourism and make a difference to showcase the creativity and ingenuity of the industry.

For more information on Allegany County Tourism, and to check out the website, please visit www.mdmountainside.com.
###
Allegany County Tourism
Allegany County Tourism is the official tourism office for Allegany County, Maryland. Allegany County Tourism enhances the quality of life in Allegany County, Maryland, and strengthens destination awareness through promotion, development, and services that attract visitors to stay longer and spend more in our community. A comprehensive listing of area attractions, lodging options, and community events can be found at www.mdmountainside.com. Tourism supports 3,600 jobs in Allegany County, generates $194 million in visitor spending and $49 million in tourism tax revenues annually. Source: Tourism Economics