Travel through either one of Mountain Maryland's Arts and Entertainment districts, in Cumberland and Frostburg, and you will be met with diverse genres of art in our galleries, theaters, and art spaces. But, did you know that there is a whole collection of art available in open spaces? Explore these incredible works of public art depicting history, honoring life, and celebrating culture in the county and the region.
SKIPPER'S VIEW

By Christopher P. Sloan, Arnold d'Epagnier and Bill Dunlap
Board of Education Building, Viewable from the Great Allegheny Passage, Western Maryland Scenic Railroad, and I-68
Working in collaboration with the Allegany County Public School System Board of Education and local artists, Christopher P. Sloan, Arnold d'Epagnier and Bill Dunlap, this vibrant 100', three-dimensional mural, made with 60 aluminum panels, greets visitors at the gateway to Cumberland on the Great Allegheny Passage trail and the Western Maryland Scenic Railroad. Designed with the movement of cyclists and train passengers in mind, the artists created the piece to be seen from multiple viewpoints so it would change as they move. One of the substrates of composition is geometry, with large circles of hexagonal and pentagonal symmetries, evocative of the wheels of the many forms of transportation that have traveled through Cumberland, affectionately referred to as the Crossroads of America. 
CENTRE STREET PARKLET MURALS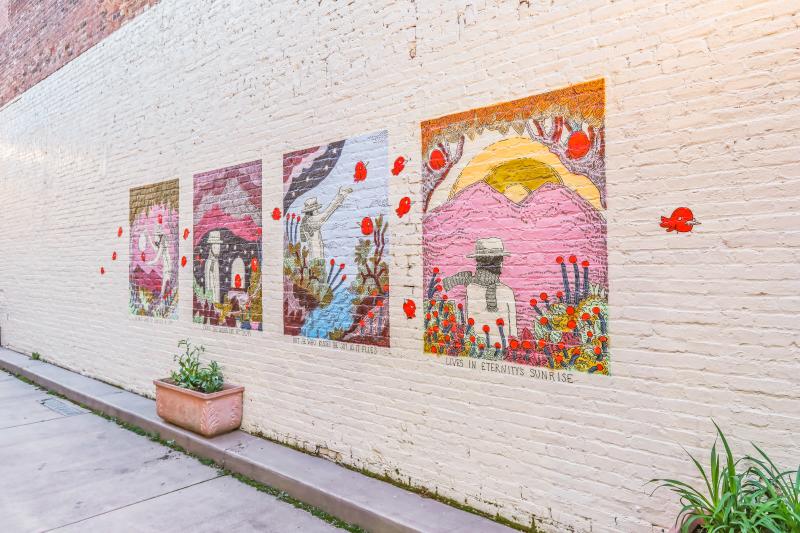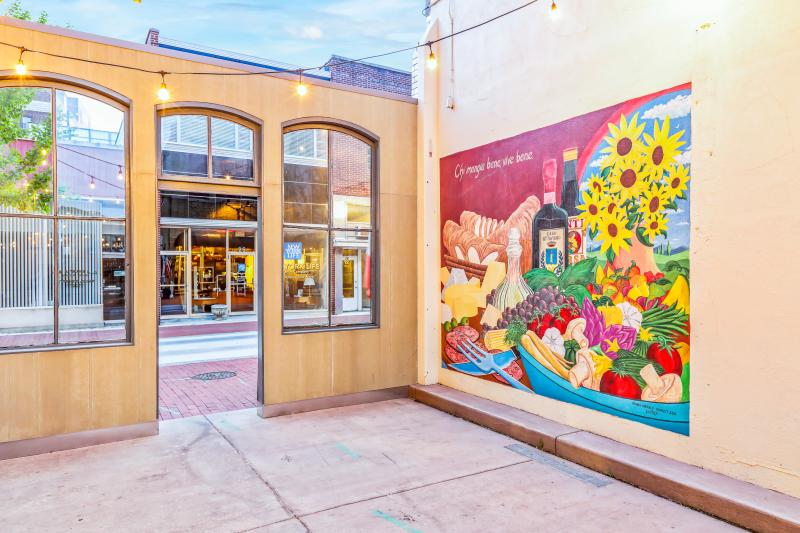 By Dennis Sherod and Jamison Odone
23 N Centre Street, Cumberland, MD 21502
A four‐panel graphic mural depicting the poem 'Eternity" by William Blake, by artist Jamison Odone, and three Italian‐themed murals, including the Italian restaurant and the Italian countryside, by Dennis Sherod, are emblazoned along the exterior wall of Ristorante Ottaviani in Downtown Cumberland.
"WE ARE SWEPT"

By Parris Ashley
13 Canal Street, Cumberland, MD  21502
This magnificent 8' tall by 200' long heritage mural depicts the evolution of the Cumberland region from the time of the first native peoples to present‐day life, with the stories told in our rivers, roads, rails, and mountains. The mural is organized chronologically, and the interpretive signage next to it gives viewers the brief history behind each scene with accompanying historic images. It is a must‐see for art and history lovers alike.
*Photo Courtesy of Allegany Arts Council - Section 5 of the full mural.
"CLIMB" AND "GLIDE"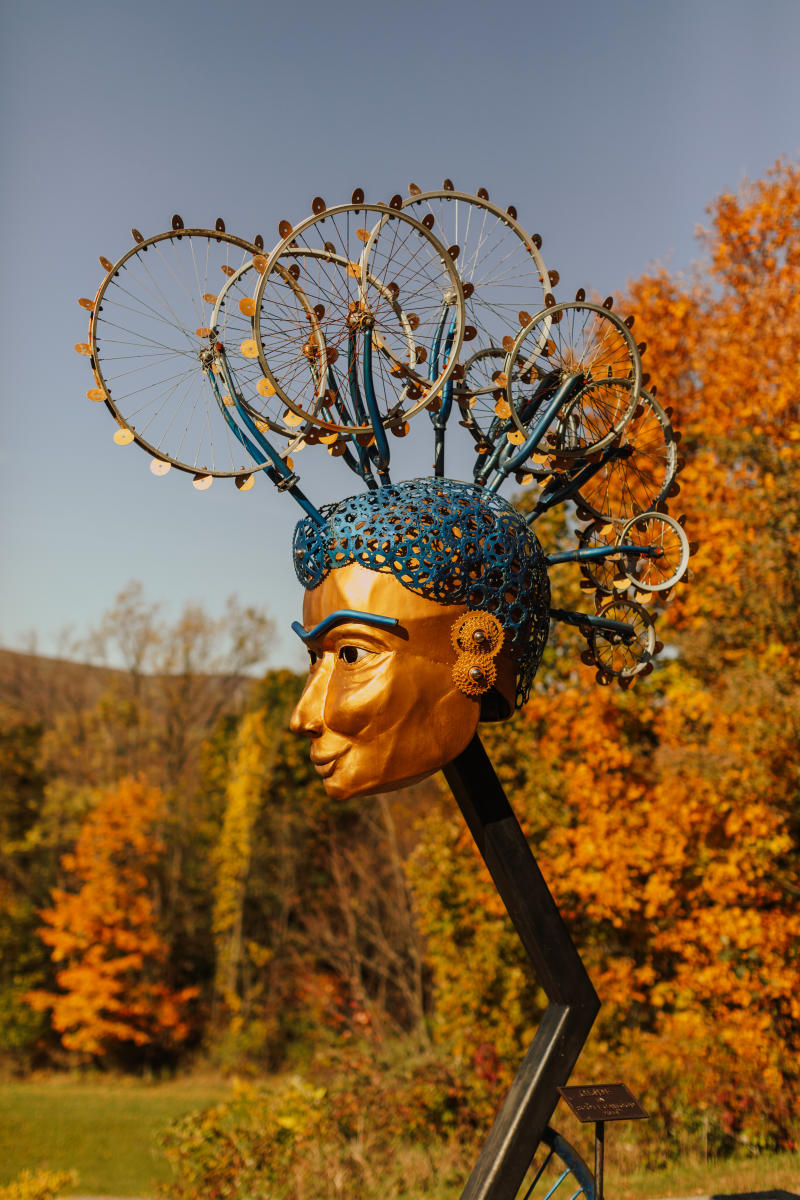 By Scott Cawood
New Hope Road, Frostburg, MD  21532 (between the Great Allegheny Passage Frostburg Trailhead and Frostburg Depot)
Completed in 2011 and 2014, two sculptures attempt to capture the consciousness of bicyclists along the Great Allegheny Passage. Made from recycled bike parts, including a wheel that spins in the wind, these sculptures along with others can be viewed when trekking the switchback trail off the Frostburg Trailhead on the Great Allegheny Passage Trail. Completed in 2019, the Frostburg Arch by Scott Cawood was installed to complement "Climb" and "Glide" and features a metal archway reflecting the active pursuits of western Maryland that marks the entrance to the sculpture garden and switchback.
"21532"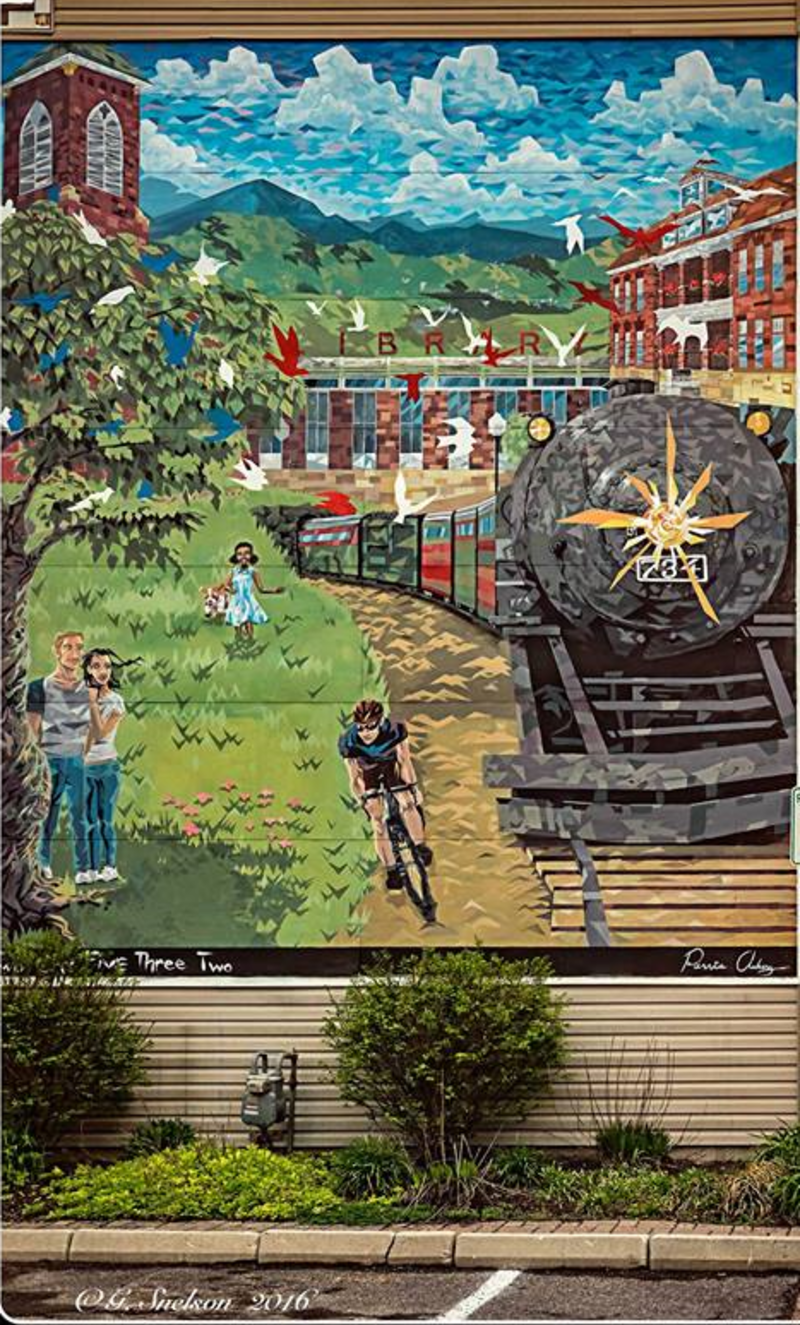 By Parris Ashley
9 Broadway, Frostburg, MD 21532
A large mural by Frostburg resident Parris Ashley showcases the many charming aspects of Frostburg, including the Western Maryland Scenic Railroad, Great Allegheny Passage, Frostburg parks, and Main Street.
Photo by Gerry Snelson.
"FROSTBURG IN MOTION"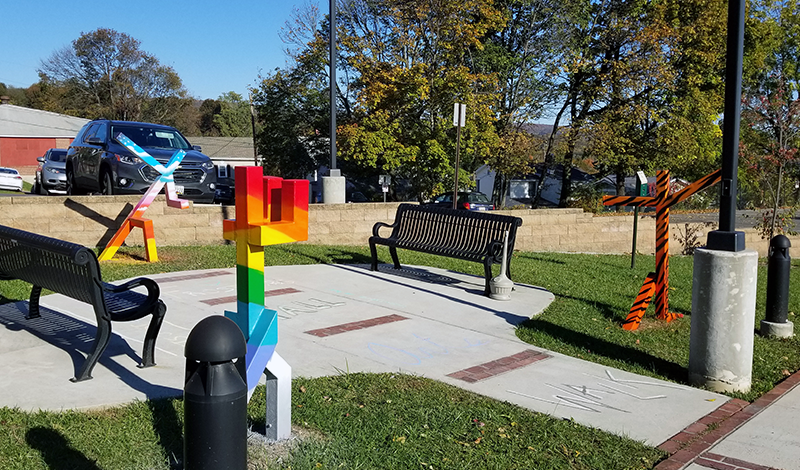 Sculptures by Frostburg State University students and faculty. Painting by Jules Muck.
Parish Hall Public Parking Lot on 1st Street, Frostburg, MD
A collaboration between Frostburg State University's Department of Engineering and Department of Visual Arts resulted in the upcycled metal sculptures depicting bodies in motion. The sculptures were donated to FrostburgFirst and were installed with assistance from the City of Frostburg Department of Parks and Recreation. Internationally recognized muralist and artist Jules Muck of Muck Rock completed the creative painting on the sculptures.
---
These examples are just the beginning! Thanks to the work of our Arts & Entertainment districts and engagement and funding support from the  Allegany Arts Council, art seems to be popping up all over the mountainside.
" Art is too important not to share,"
Romero Britto.