Take advantage of Allegany County, the Mountain Side of Maryland's access to 70,000 acres of public land and over 200 miles of developed trail systems for walking, hiking and connecting to nature. We've gathered some of our favorite trails around the county to help inspire you to get out and explore the colorful mountainside this fall.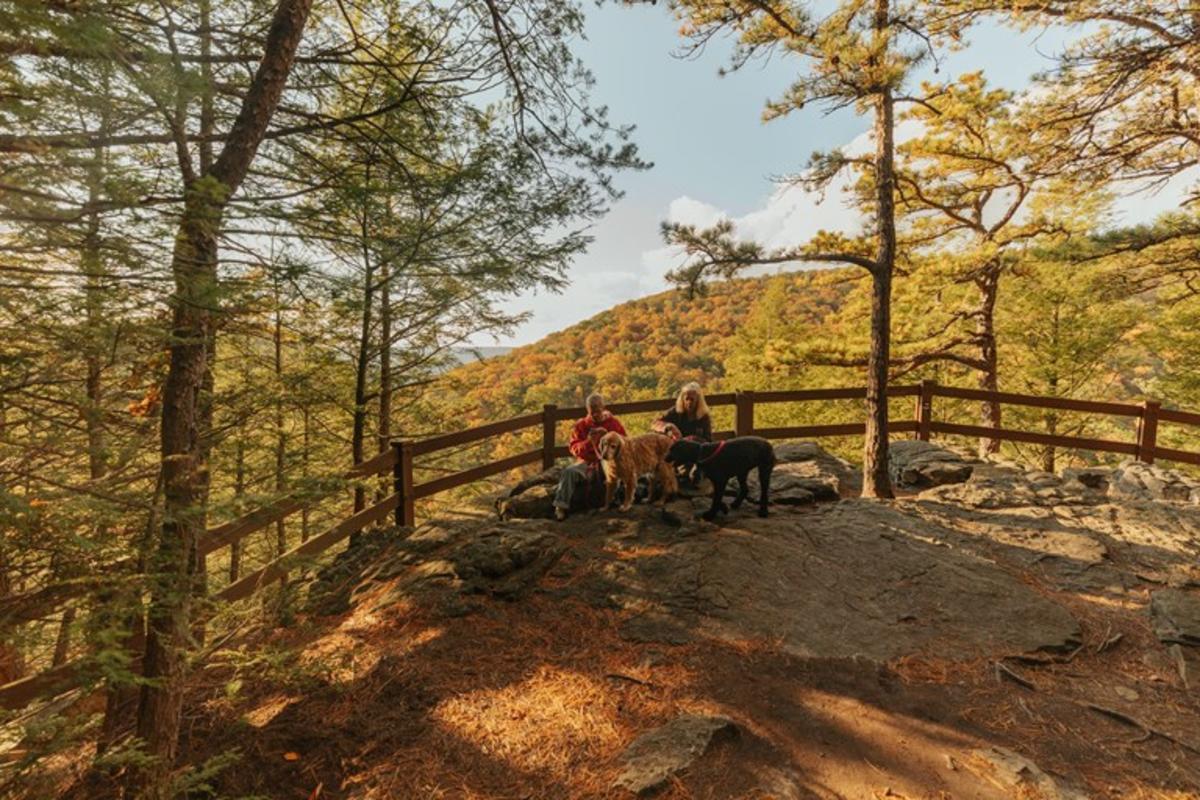 CANYON OVERLOOK TRAIL 
This easy, 0.3-mile trail gives you a magnificent view of the one-mile-long gorge. This loop trail offers visitors a short but scenic hike.
LAKESIDE LOOP TRAIL
A moderate 5.3-mile trail that encircles Lake Habeeb, this hike offers scenic beauty as you cross footbridges, trek along the shoreline, and wind through the woodlands of Rocky Gap State Park.

Be sure to download a map of Rocky Gap State Park to learn about the many trail systems and the park amenities.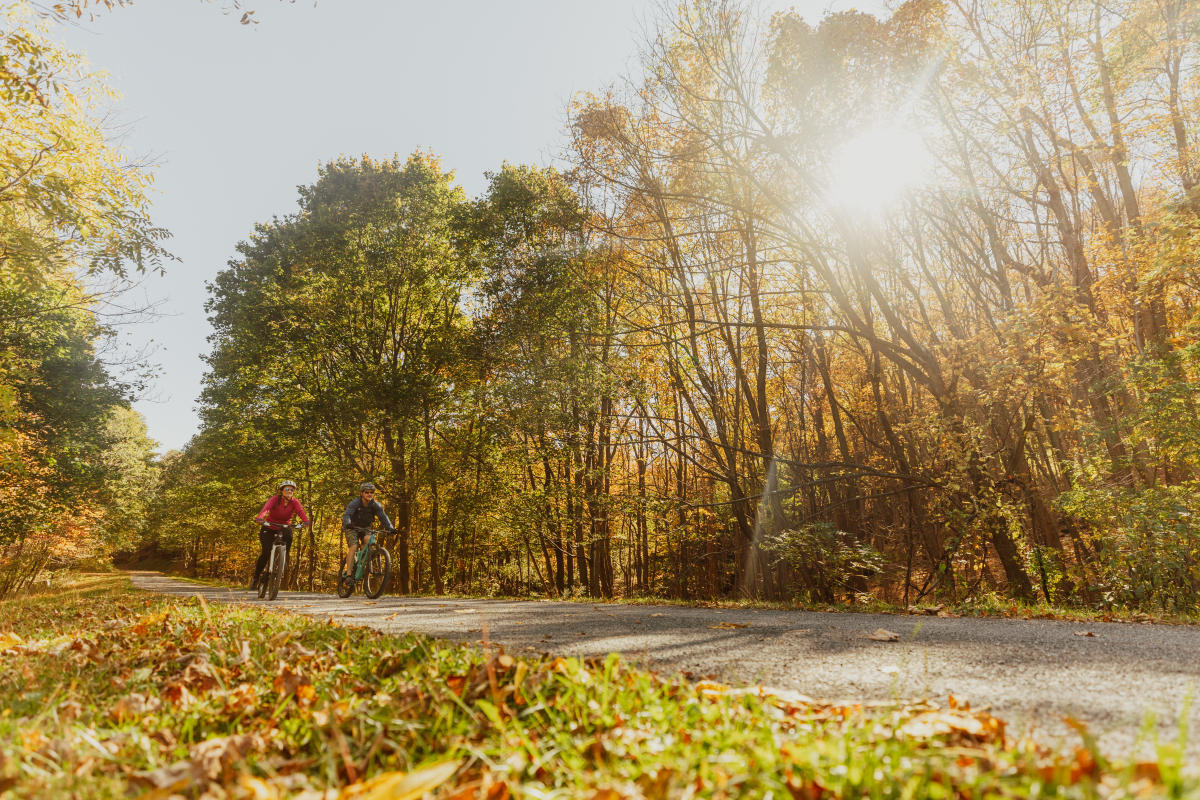 While it may be known for incredible biking, the Great Allegheny Passage (GAP Trail) is also a great spot for a hike or run. This internationally recognized rail trail system follows the Western Maryland Scenic Railroad tracks for 16 miles from Cumberland to Frostburg and continues all the way to Pittsburgh, creating 150 miles of pedestrian recreation trail opportunities. Access the trail from one of four public access points at the Frostburg Depot (Frostburg), Cash Valley (LaVale), Valley Street (Cumberland), and Canal Place (Cumberland) for a relatively flat and enchanting forest-lined walk along the path.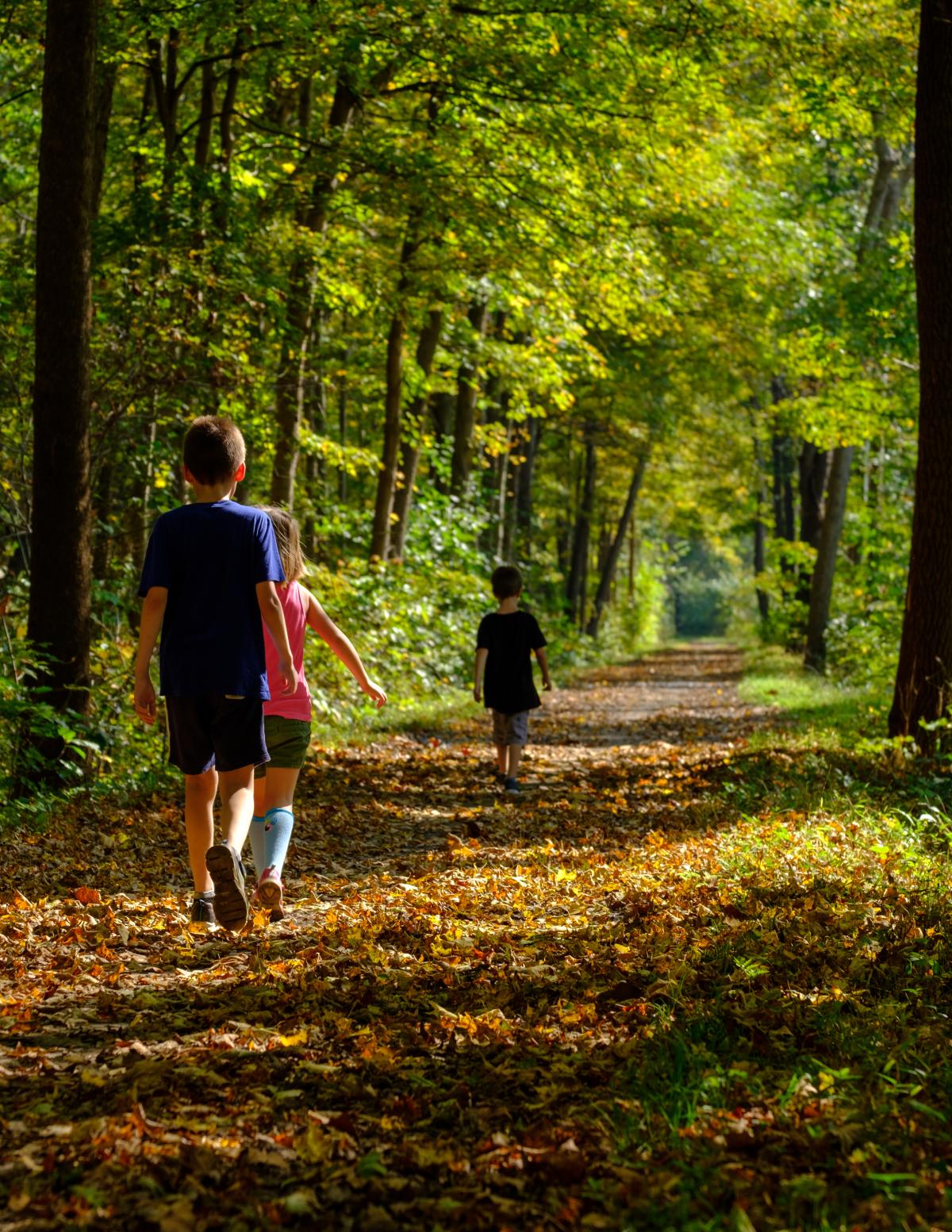 Stretching 184.5 miles along the C&O Canal from Georgetown to Cumberland, MD, the C&O Canal National Historical Park and Towpath follows the path built for mules to walk beside canal boats as they towed them through the waterway. Today, the park is Maryland's most popular National Park, and the 10th most-visited National Park in the country, filled with hiking, biking, and recreation opportunities. You can access the park and towpath through public access points at Fifteen Mile Creek Recreation Area, Town Creek, Oldtown, Spring Gap Recreation Area, and Canal Place. 
Green Ridge State Forest is Maryland's largest contiguous forest, with 49,000 acres and over 50 miles of hiking trails available for day hikes or multi-day backpacking experiences. Be sure to download the visitor map before heading into the forest. 
SCENIC OVERLOOK TRAIL
This short, accessible trail leaves the forest headquarters and ends at an overlook with impressive views of Town Hill and the Green Ridge mountain ridges. Just 50 yards, the Scenic Overlook Trail is well worth kicking off your adventure in Green Ridge State Forest.
 
PINE LICK TRAIL
This moderate six-mile trail crosses the Fifteen Mile Creek footbridge and allows for hiking along the stream valley north to the historic Mason-Dixon Line. Surveyed in the 1760's, the Mason-Dixon Line helped to settle a land dispute and ultimately developed the northern border between Maryland and Pennsylvania.

GREAT EASTERN TRAIL
The Great Eastern Trail is a 1,600-mile, long-distance hiking trail, stretching from Alabama to the Finger Lakes in New York. 18 miles of this moderate-to-difficult trail passes through Maryland by connecting to the C&O Canal Towpath from Hancock, Maryland, heading west to connect to the Green Ridge State Forest trail system before it crosses into Pennsylvania. 
Not really one for day hiking? Be sure to locate and walk out to any of Green Ridge State Forest's five overlooks along their Scenic Driving Tour for incredible autumn views this fall travel season. 

Historic Walking Tours
Want to stick close to town for a more urban hike? Take one of our Historic Walking Tours. These self-guided tours are available in Frostburg and Cumberland and take you on a journey to see remarkable architecture and learn interesting tidbits of the history of each city. 
Frostburg Historic Walking Tour Map