We're celebrating National Mom and Pop Business Owners Day by celebrating the small and independent businesses that form the heartbeat of our community. Mountain Maryland is made up of so many outstanding mom and pop businesses that it was nearly impossible to pick just a few to feature. What's remarkable is that these businesses have stood the test of time and tradition,  spanning multiple generations of family ownership. Help us celebrate, and find out what has made these businesses iconic to Mountain Maryland culture.
---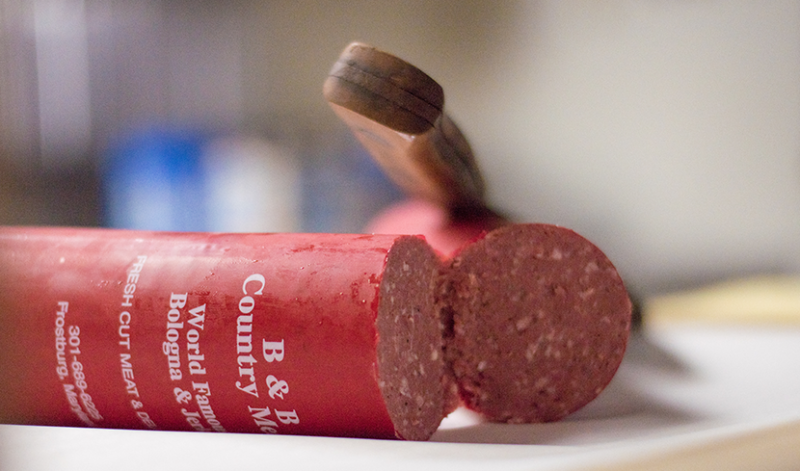 B&B COUNTRY MEATS

B&B Country Meats is a local butcher and deli that's been serving the area for 100+ years and is especially known locally and abroad for its fresh-ground, all lean beef smoked sausage called Engles Mountain Bologna. In 1981, owner Bernie Garlitz bought the business from the Engle family and has carried on the tradition of the Engle's family special recipe for all-beef bologna since then. More recently, Bernie's son Ryan has stepped up to the plate to learn the family tradition and has made his way as a second-generation family business owner for B&B Country Meats. Stop in to try their bologna, which comes in flavors regular, hot, or cheesy. Insider tip - pair sliced bologna with sharp cheddar and hot mustard on sandwich or crackers.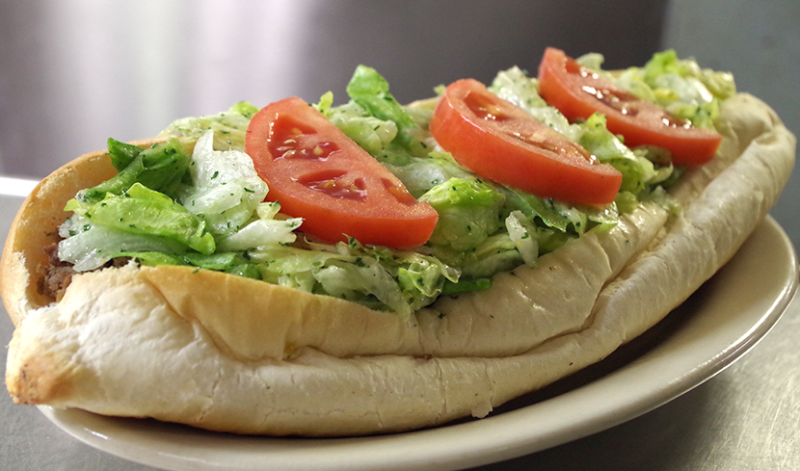 D'ATRI RESTAURANT

A family tradition since 1971, D'Atri Restaurant is in its second generation of family ownership, keeping the family tradition of high-quality food and service alive and well. The restaurant started as a pizza shop, but by surprise, the family-recipe steak sub, made with fresh-baked sub rolls, chopped ribeye steak, and seasoned lettuce, became the local favorite dish, so much so that former locals often have the sandwiches shipped to their new homes all over the country. The success of D'Atri Restaurant has spawned a few other family restaurants including Fratelli's and Patrick's Pub.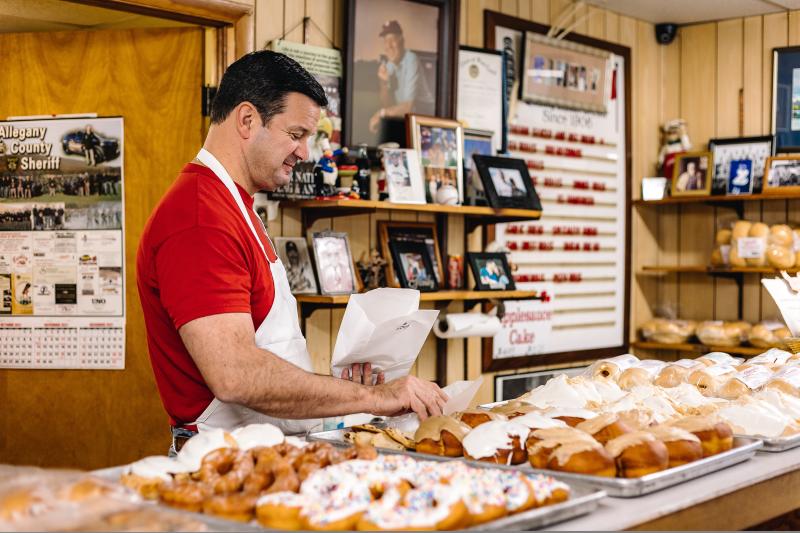 CAPORALE'S ITALIAN BAKERY

Now in its fourth generation of family ownership and recognized as one of the oldest businesses in Allegany County, Caporale's Italian Bakery has been a household name since 1906, when their bread and rolls were delivered house-to-house by horse-drawn carriage. Popularly used to sop up home-cooked spaghetti sauce, their bread and rolls have made their way into local grocery stores and restaurants. Insider tip - try their pepperoni rolls, popularized as a convenient and favorite go-to lunch option for coal miners in the mid-Appalachian region.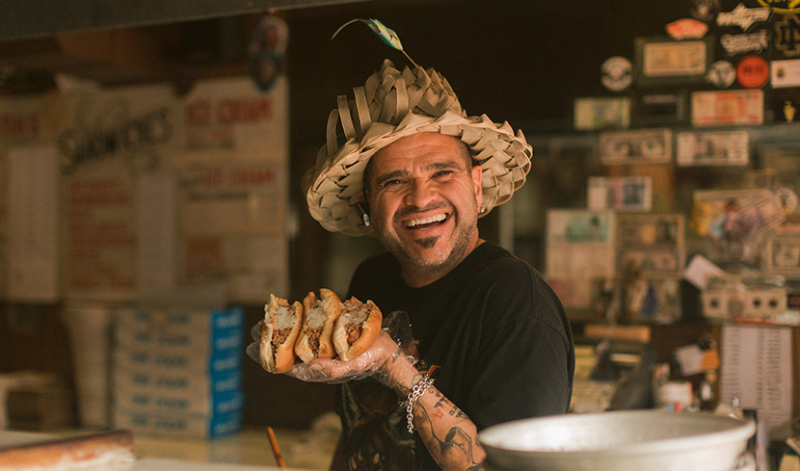 CURTIS' CONEY ISLAND FAMOUS WEINERS

For over 100 years Curtis' has been a deep-seated food tradition in Cumberland, MD, with its famous hot dogs, complete with the secret family recipe for chili sauce, brown mustard, and onions - no fancy bells and whistles, just a darn good hotdog. Having made his first hot dog in the shop at the age of eight, Gino Giatras carries his father's guiding principles to continue the family tradition as the second-generation family business owner. Insider tip - Order your dogs "with," which will get you the full setup - bun, wiener, spicy brown mustard, sauce, and onions.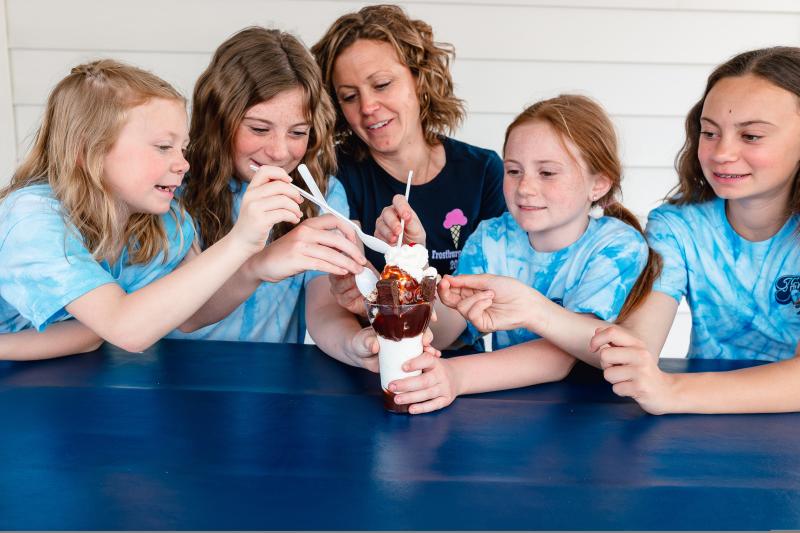 FROSTBURG FREEZE

This seasonal business is in its third generation of family ownership, having served the Frostburg community for over 50 years as a place for locals to gather in the summertime, after ball games, and for city-wide events, where you can enjoy the area's best burger and a shake. Through the years, the Freeze has employed over 250 members of the Frostburg and surrounding communities, and they delight each season to see their faithful customers returning year after year. Inside tip - for the full Frostburg Freeze experience, order their "Big T" and the Boston Shake, a vanilla hot fudge sundae served in a chocolate shake.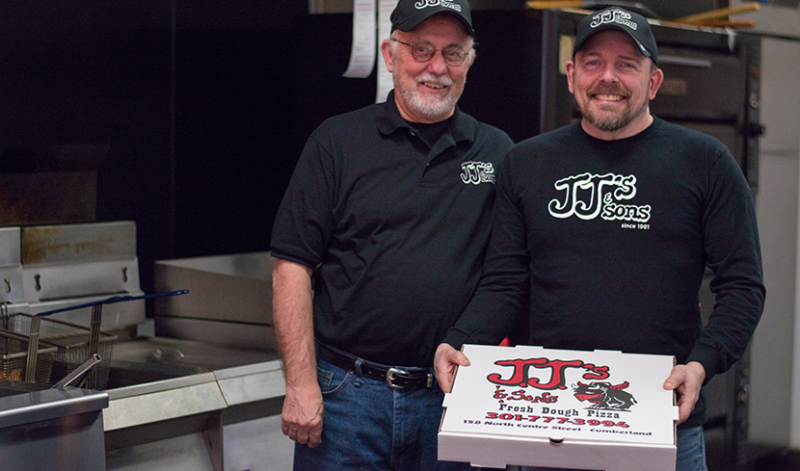 JJ'S AND SONS PIZZA

Hailing from Buffalo, NY, John Lyon set out to bring a taste of home right here to Allegany County when he introduced the Buffalo-style chicken wing in 1981. Now in its second generation of business, JJ's has been known as "The Place for Wings" ever since, making this a local tradition. Insider tip - pair wings with their excellent homemade blue cheese dressing.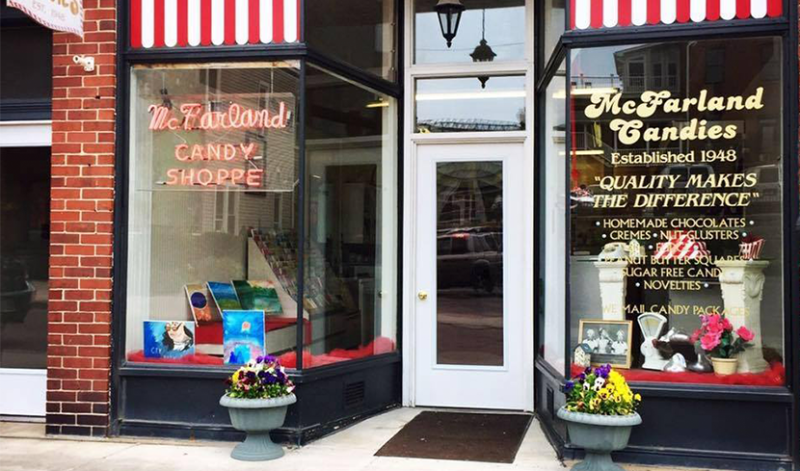 MCFARLAND'S CANDIES

It's quality that sets these chocolates apart and lends to McFarland's successful three generations of business, operating in Frostburg since 1944. Their chocolates have been shipped all over the world, and their quality comes right down to customer service, community, process, and of course, ingredients - cream instead of milk, butter instead of margarine, and nuts that are baked, not fried. Insider tip - their peanut butter squares are something out of this world, and if you are lucky, you may just get them while they are still warm!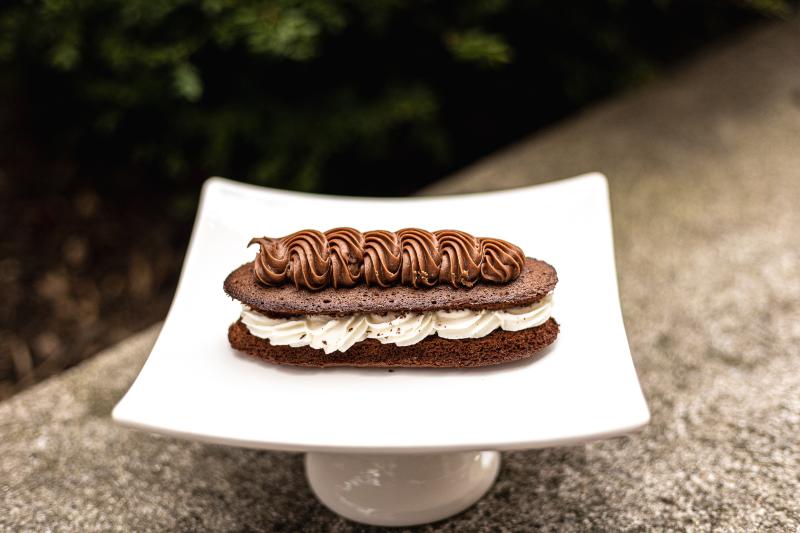 M&M Bake Shop

Owner Roger Lantz has been keeping the family tradition of operating an old-fashioned bakery in the old-world style alive as the second-generation business owner after his mother purchased the business in 1966. The bakery is a local-favorite spot to grab fresh baked goods with their cookies, brownies, bread, pies, and decorated cakes all prepared on-premise. A number of travelers from metro areas have even become repeat customers when they are passing through the mountains. Insider tip - try their customer-favorite fresh donuts, peanut butter rolls, and the "Devil Dog" (pictured above).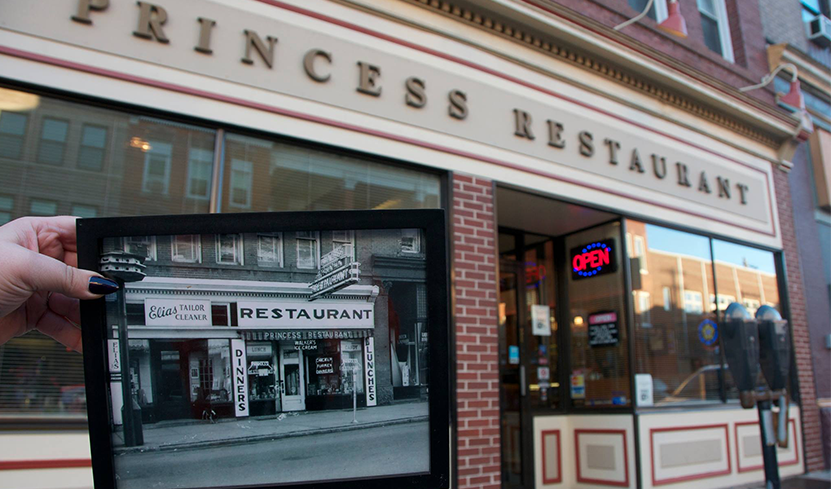 Princess Restaurant
A Pappas family tradition, the Princess Restaurant entered its fourth generation of family ownership when George W. Pappas passed the family business to his daughter, Lauren Pappas, in 2014. This classic diner has been a Frostburg Main Street staple, filling the hearty appetites of the community and visitors for over 81 years. Insider tip - order one of their hand-dipped, hand-made Super Shakes that earn them a spot as one of nine stops along the Allegany County Ice Cream Trail.
*Photo Credit - Princess Restaurant
Learn More
---
These are just a taste of our amazing small and independent businesses. If you choose to explore our county, you will quickly see why all of our Mountain Maryland small businesses create a vibrant and welcoming feel.