Did you hear? Allegany County, the Mountain Side of Maryland was named by USA Today as a Top 10 Best Place for a Fall Getaway. While you're out exploring our 70,000 acres of public land, 200 miles of developed trail systems or embarking on one of top fall attractions like the Western Maryland Scenic Railroad, Tracks and Yaks rail biking excursion, or the Great Allegheny Passage and C&O Canal Towpath trails, there is one thing for certain - there's nothing better than a crisp fall beer to cap off your adventure. Mountain Maryland is home to four award-winning breweries with incredible settings in the picturesque fall mountain landscape. Be sure to check out each one along the Mountain Maryland Tap and Pour Tour and grab one of the recommended fall features below!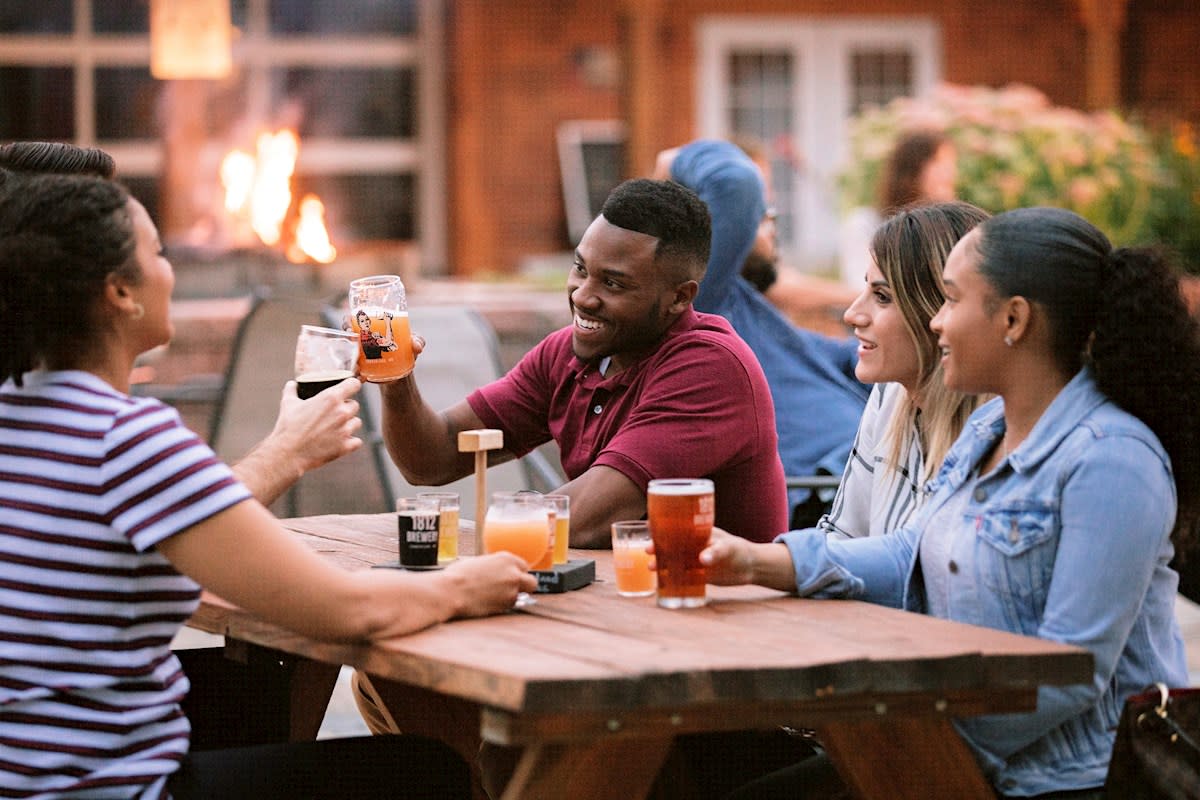 The first farm brewery in Allegany County, 1812 Brewery is located on 190 acres where they grow their own hops on a trellis system towering 20 feet high. The taphouse, a converted barn built in 1812, houses the vats and tanks for brewing and has a rustic bar area where guests can sample beer flights, drink a pint of their favorite, or purchase growlers to go. The property also features a patio with the iconic 1812 silos and mountains as the backdrop. 
 
HillFolk Helles - A Munich-style Lager-Bier
A classic lager bier has a malt forward character with a sweet grain note that is rounded out by a subdued floral aroma from German Noble Hops. 
Cumberland Blues Pale Ale 
A hop forward beer with subdued bitterness that lets the bright fruity character of the hops show through. Explore notes of grapefruit pith and sweet fruits balanced by a bready malt backbone.

Located in the beautifully restored Footer's Dye Works building in the heart of downtown Cumberland, Dig Deep sits beside the intersection of the two internationally recognized trails, the Great Allegheny Passage and the C&O Canal Towpath, and the Potomac River. 
Liquid Breakfast (6.3 ABV)
Liquid breakfast is a blonde stout with hints of vanilla, coco, and oatmeal.
Appalachian Trail Mix (5.0 ABV)
Appalachian Trail Mix is a sweet coffee stout made with local Basecamp Coffee Co coffee beans. 

Locust Post Brewery is an award winning, craft beer destination. Located on the beautiful, wooded property with eyes on the Appalachian Mountains, the brewery includes a complete brewing system, a taproom for taste testing, and plenty of room for exciting special events or simply relaxing with a cold brew. Designed and built from the ground up, the brewery incorporates repurposed and upcycled materials, both in the fabric of the structure and the artwork created by the Cornwells and others on the property. 
Harvest Ale (4.6% ABV)
Pale Malt Ale using our fresh Cascade Hops pitched in just hours after harvest from LPB Farm!
Belgian Dubbel, Trappist Style Belgian Ale (7.5% ABV)
Brewed in the style Trappist Monks are known for - a strong, malty ale.

Route 40 Brewing & Distilling Co is located with Toasted Goat Winery in the historic Hotel Gunter in historic downtown Frostburg. Enjoy their diverse beer menu in the hotel cellar's Speakeasy Tasting Room, which served as an actual speakeasy during prohibition. 
Braddock's Trail Pale Ale (5.2% ABV)
The signature pale ale, blended with cascade and fuggle hops to create a medium bodied beer with a slight bitter finish that makes it perfect for fall.
McCarter's Irish Red (4.7% ABV)
An Irish Red ale with a perfect balance of kilned malts and roasted barley, with hints of coriander, orange, and ginger to give it a divine flavor.