It did not take long after the New Year for Mother Nature to make her presence known by blowing in cold weather and covering our mountain region with a blanket of snow.  The majority of those in the mid-Atlantic and Appalachian region are already thinking that spring can't get here soon enough.  Then, there are those who enjoy ice fishing.
If you are one of these individuals like I am, you find yourself closely monitoring the weather forecast hoping for sustained temperatures below freezing.  These conditions are needed for ice to form and thicken on our local lakes and ponds.  Those on social media are following daily posts by friends and the community of fishermen looking for a post that indicates conditions are safe to begin fishing.  And, if you are like me, you have already organized your ice fishing gear so it is ready for first ice.
Winters in our region do not always provide us safe ice fishing conditions like they do in areas to the north of us.  We were fortunate last year to have an extended period to enjoy this winter pastime at Rocky Gap State Park and other lakes and ponds in Western Maryland. While a lifetime fishermen, I am relatively new to ice fishing, and last year's season got me 'hooked'.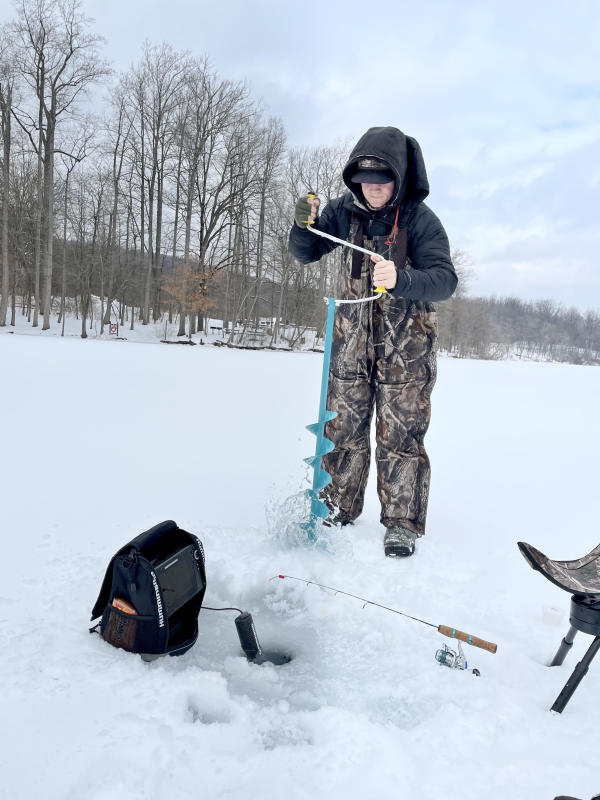 Ice fishing does not require a significant investment.  While you will see those with powered ice augers, portable ice fishing huts, and fishing sonars, none are required to enjoy ice fishing and experience success.  The basic equipment needed includes a hand ice auger, ice scooper to remove ice from the drilled hole, ice fishing pole and fishing tackle, all of which you can purchase for $100-$150.  Not inexpensive but an investment that will provide enjoyment for years.
We are fortunate to have Rocky Gap State Park in Allegany County, Maryland, which can provide an outstanding ice fishing experience on Lake Habeeb. The lake is well managed with an abundance of bluegill, yellow perch, crappie and largemouth bass, and some of the lake's best fishing area is a short walk from a parking area.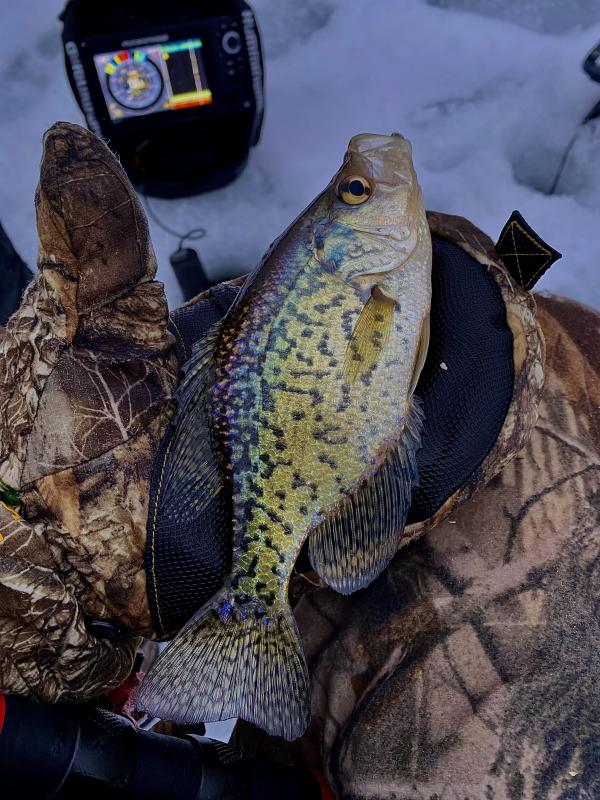 It also has other outdoor activities including well maintained hiking trails that provide picturesque landscape views of the Park's winter wonderland. The Park also has snowshoe rentals for when the snow is deep and you want to try a new wintertime activity. So, bring your family and/or friends along to enjoy the outdoors while you fish. You may actually inspire them to visit you on the ice and give them a glimpse of why we hope spring does not come too quickly. The park also provides cabins which can be reserved if Rocky Gap State Park is too far for a day trip or you are interested in a multi-day trip to enjoy other attractions in the mountainside.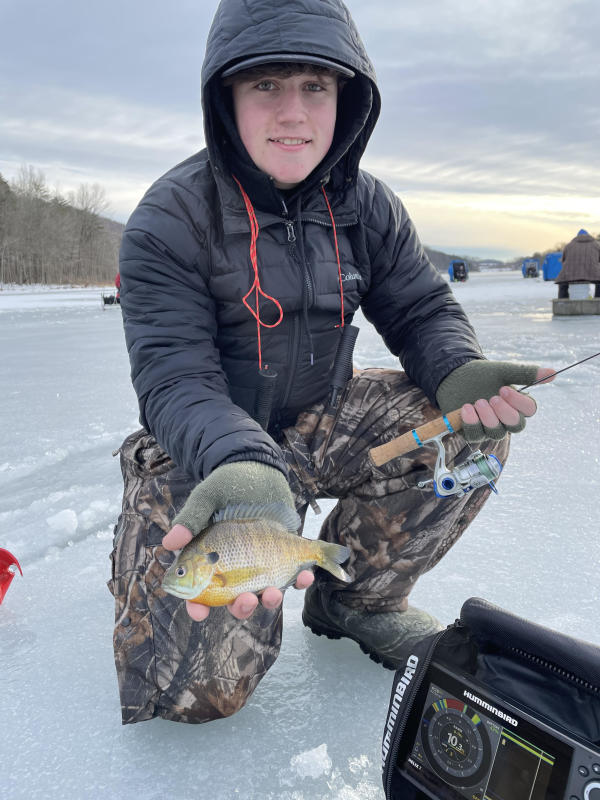 If you make the trip, try parking at the boat ramp and start fishing about half-way between the boat ramp and beach area which can be seen on the other side of the lake.  The water depth here is about 10-12 feet deep.  While many ice fisherman use sonar to inform them of water depth, location of their lure/bait, and to identify the presence of fish, this is not essential. Simply use a small 1/8 to 1/32 ounce jig or spoon and tip it with 1-2 wax worms, which you can purchase at most stores that sell fishing tackle or pet food.  Drop your line into the water until your line goes slack, signaling your lure/bait has hit bottom.  Reel up one or two cranks so that your lure/bait is 6-12 inches off the bottom.  Small jigging and twitching action followed by short pauses will produce good bites.  While fish are caught throughout the day, the first hours of the morning and last hours before sunset typically experience the best catches.  And if you have success, bring a few home for a delicious meal!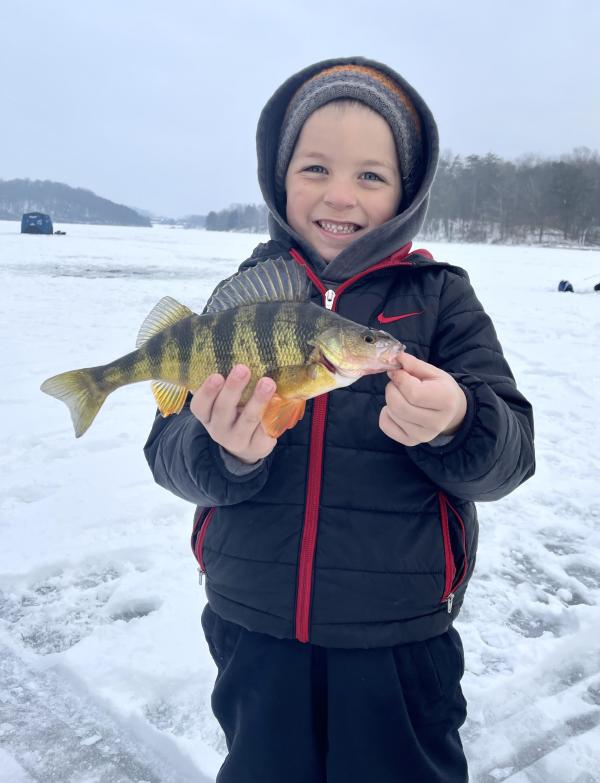 If you are fortunate to get out ice fishing this winter, have fun and stay safe.  It is recommended that ice thickness be at least 4-inches for a person to safely walk on.  Drill holes in the ice as you walk out to make sure safe ice conditions exist.  Enjoy the beauty and outdoor activities of Allegany County. 
---
DID YOU KNOW...
Lake Habeeb at Rocky Gap State Park in Allegany County, Maryland, was named one of the "Best 8 Ice Fishing Locations for 2022" by Fishing Booker.