We will let you in on a little secret ‐ there's some spectacular road cycling in Mountain Maryland. While most cyclists know Cumberland, Maryland, as the nexus of the C&O Canal Towpath, the Great Allegheny Passage, and fine mountain biking opportunities, the paved roads in and around Allegany County will lead you into some of the most breathtaking hills and valleys of the mid‐Atlantic and Appalachian mountains.
---
Beginning in downtown Cumberland, the hub of cycling activity and home of three bicycle shops, roadies can find an array of routes from as short as ten miles long to full century (100‐mile) distances. You'll want to travel west, north, or east as you leave the city, as the Potomac River forms the border to West Virginia and limits the routes to the south. The road routes quickly become rural, low traffic, and as varied in terrain as anywhere on the east coast. Mountain Maryland is located in the "ridge and valley" region of the Appalachian mountains, meaning that routes in an east‐west direction will involve crossing multiple hills and mountains, some with grades over 15 percent, but for a more level ride, stick to the valleys in routes with north‐south orientation. 
As varied as the terrain can be, the weather can change dramatically as you travel from lower elevations in the river and creek valleys to elevations over 3,000 feet as you approach Garrett County to the west. This elevation change, and the accompanying temperature variation and weather patterns, actually proves beneficial in deciding where to find the best riding conditions from summer to winter. During the dog days of summer as the mercury climbs above 90 degrees, it's possible to find relief by starting your road ride in the western‐most town of Frostburg, where it's generally 10 degrees cooler than Cumberland. From Frostburg you can climb even further west over Big Savage Mountain into the cool green forests of Garrett County, MD, and Somerset County, PA. Here, you're likely to see more Amish horses and buggies than motor vehicles on the roads.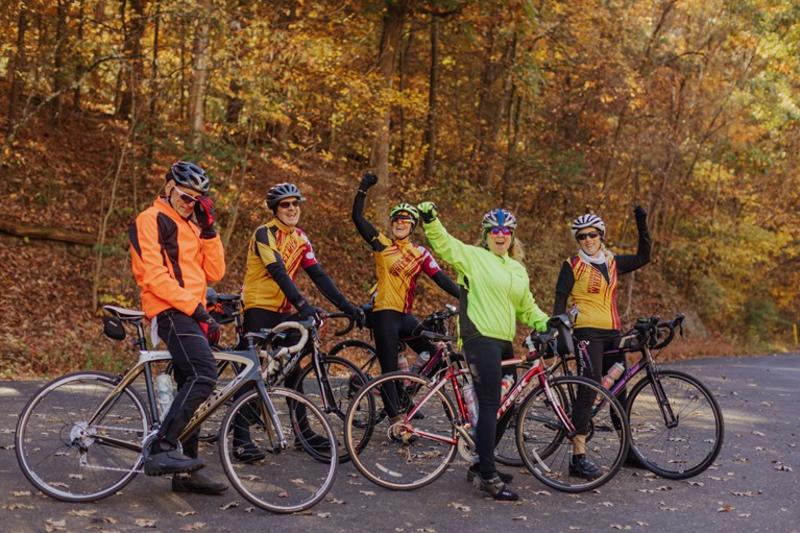 During the frigid winter months, it's common to find the lower eastern roads near Flintstone and Little Orleans snow and ice free, often with days in the 50s and 60s. In fact, many of the local bike clubs' early spring rides begin near Little Orleans at the Locust Post Farm Brewery below Town Hill Bed & Breakfast.
There are a few things to be aware of when riding in Mountain Maryland, especially if you're new to the area and more accustomed to urban or suburban road cycling. While the roads are mostly quiet and scenic, they travel through farm and ranch country, along with all the associated hazards such as slow moving farm machinery, limited road shoulders, blind corners, steel grate bridges, and plenty of deer. And as you might imagine, along some routes there are limited places to find food and liquids during longer rides, so plan to carry two water bottles and some snacks on those warmer summer rides. Also be aware that, depending on your carrier, cell phone coverage may not be available throughout the area. As far as road surface conditions, you'll experience the full range of buttery‐smooth new pavement to rutted, cracked, gravelly secondary lanes that will test your body and bike frame. It's all part of road riding in Mountain Maryland.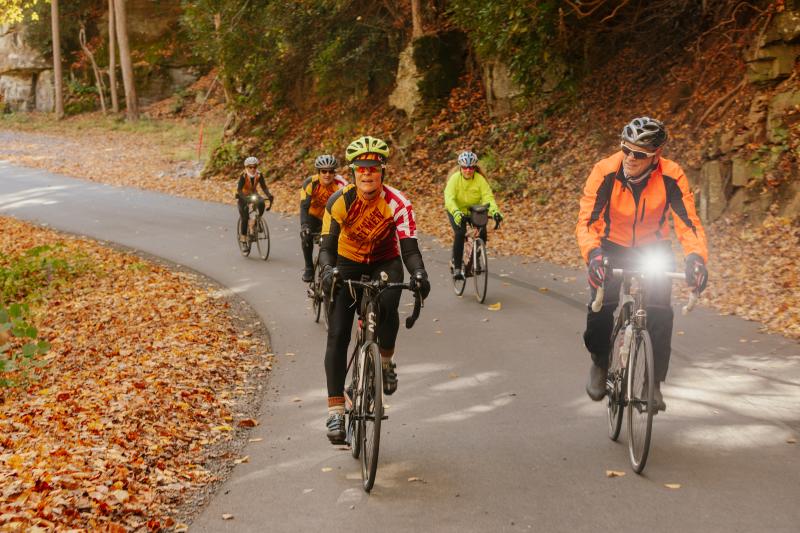 Recommended Routes
Most Level Route
Mount Savage Lollipop | 22.3 Miles
This 22‐mile, up‐and‐back road ride is a mostly‐paved, part mixed‐surface route that combines the first three miles of the Great Allegheny Passage, starting from Mile "0" in Cumberland, through The Narrows on Route 36, up through Mount Savage, and making a loop through Slabtown to return. The steepest grade is 9.2%, and the route is made up of mostly wide shoulders all the way to Mount Savage.
Ridge and Valley Ride
Redbud Ride from Cumberland to Hancock | 40.4 Miles
This beautiful route showcases our ridges and valleys through the Appalachian mountains and is known best for its view of the Redbud blossoms in Spring. The route begins in Cumberland, MD, and follows old US Route 40/MD 144 out to Hancock. The ridge and valley topography lends itself to some serious climbs, with a few gradients over 10%.
Best Summer Ride
Lake Loop | 37.4 Miles
This all‐paved road route is a favorite of the local cycling clubs that starts in Cumberland, MD, and takes you to Lake Koon dam, right over the Pennsylvania border. Encounter creeks, breweries, shaded cliffs, goat farms, and fishing bridges along this scenic route on rural backroads.
Best Winter Ride
Cumberland, Bryce Hollow, Flinstone | 47.5 Miles
This rural road route is perfect for winter and off‐season rides due to its mild climbs and clear roads. Soak in the quiet and calm of winter as you travel country roads alongside state parks, forests, and farms.