George Washington 1753 Trail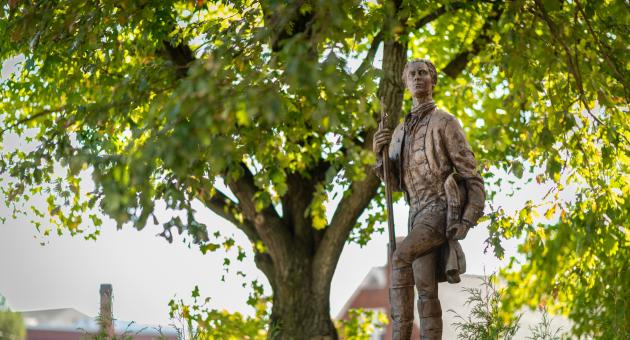 Difficulty

Easy
Follow along the George Washington Trail 1753 through Allegany County, the Mountain Side of Maryland, commemorating young Washington's first diplomatic mission to western Pennsylvania - a mission that led to the outbreak of the French and Indian War.
Along the George Washington Trail 1753
Relive Washington's first diplomatic expedition—retrace the steps of our first president, take advantage of the historic and natural attractions along the way. Round, blue trailblazer signs with Washington's famous profile are located along Washington's route through scenic western Maryland and Pennsylvania. Explore these three locations as you travel Maryland's portion of the George Washington Trail 1753 to gain a historical perspective on Washington's various other visits to Allegany County in 1748, 1753, 1755-58, and one last time as President in 1794. Pick up the trail at the Maryland/PA border and follow it north for the Pennsylvania portion of the Washington Trail 1753.
Points of Interest

Stop 1 - THE MICHAEL CRESAP HOUSE - OLDTOWN, MD
Stop 2 - ALLEGANY MUSEUM - CUMBERLAND, MD
Stop 3 - EMMANUEL EPISCOPAL CHURCH AND HOYE HOUSE CENTER - CUMBERLAND, MD
Stop 4 - GEORGE WASHINGTON HEADQUARTERS - CUMBERLAND, MD
Stop 5 - BRADDOCK'S ROAD AT ST. JOHN'S ROCK - FROSTBURG, MD